Hair 30 is sold exclusively in salons and hairdressers. So we support hairdressers by offerieng them a support kit at sale.
This kit includes:
2 posters
A display containing products
Product presentation leaflets that customers can keep
A DVD containing photos and video
A sticker to stick on your window
Also, if you want we can train your hairdressers to apply the product during the day.
So, feel free to contact us for more information or if you want a salesperson to call round.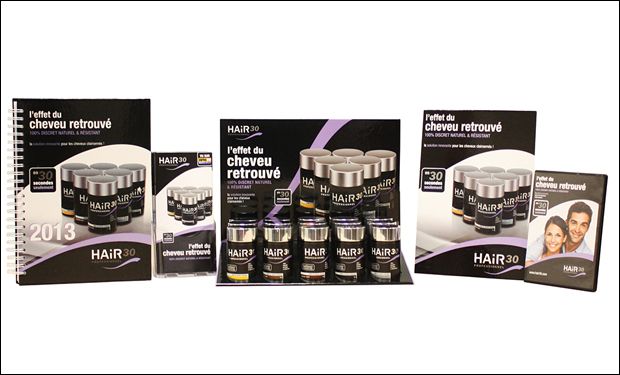 Hair30 wished to develop, for hair salons, a very original and anti-baldness product for you and your customers. Hair30 has the effect of crowding immediately baldness customers. This product dreamed respond actively to the difficulties in terms of hair problem so your customers.
You will be amazed at the result and tranquility Hair30 will offer to your customers. You will have the opportunity to discover Hair30 in your salon.
Hair30 is new, easy to use, and will minimize damage to the hair of your customers. This is probably the anti balding product that all hairdressers will prefer in the coming months.
Hair30 to share with your customers actively and in your salon, we want to offer you a free sample. Hair30 is certainly made to hide the damage to hair baldness some of your customers.
You ever thought about hiding hair loss from your customers? Hair30 brings you the solution to your hair salon.
Hair30 working on this problem for several years, Hair30 is already available for your salon! Hair30 is already a significant place in the salons in Switzerland.
Hair30 provides you with conviction the quality of the result. To give you an order of ideas, statistics show that 90% of surveyed potential customers are willing to try Hair30 in their salon.
The hair of your customers will instantly grip with Hair30.
This concept will definitely change the course of your business, and this is only the beginning! Now, you do not get to do without Hair30. More than eleven million people are suffering from baldness. You will soon be able to try Hair30 on your clients in your salon.
In just 30 seconds, baldness is hidden. Hair30 is available in several endings: blonde, dark brown, light brown, salt and pepper, white, black and mahogany. The shades can be mixed to achieve a perfect finish.
With Hair30 with these microfiber keratin, you can hide the baldness of your clients in less than 30 seconds.
Densify the hair of your customers with Hair30 solution and bring a smile to your customers.
Very fast and very easy to use, Hair30 will regain your customers hair in 30 seconds.
More and more salons trust Hair30.
They increase their sales through the solution against hair problems.
Retain your customers, gain new customers through your expertise and Hair30.
For your Hair30 deposit into your salon, please contact us now. A staff will explain in detail the concept and its use.